Our Mission and Vision
Offer BEST Value Products (highest quality, lowest prices possible)
Planting more trees and restoring forests around the globe. 5% of our profit goes to making our world a better place for everyone
Helping children in need. We have donated over 15K toys to children in need to the SF Firefighters Toy Program.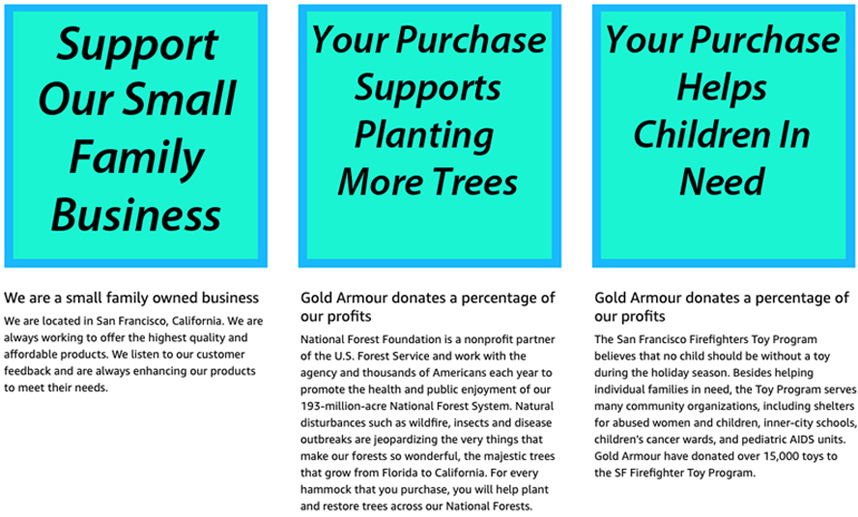 100% Satisfaction Guarantee:
All Gold Armour products come with a 100% Satisfaction Guarantee. Gold Armour is dedicated to address any product/service issues and is committed to delivering a 5 star experience for all buyers. Email us at GoldArmourUS@gmail.com if you have any questions.
Products:
| | | | | |
| --- | --- | --- | --- | --- |
| | 4 Pack Flickering Flames Torch Solar Path Light | | 2 Pack Flickering Flames Torch Solar Path Light | |
---
| | | | | |
| --- | --- | --- | --- | --- |
| | Kids Pod Swing | | Hammock Chair | |
---
| | | | | |
| --- | --- | --- | --- | --- |
| | Hammock Underquilt (Black/Gray) | | Hammock Underquilt (Gray/Sky Blue) | |
---
| | | | | |
| --- | --- | --- | --- | --- |
| | Outdoor Waterproof Blanket (Black, Blue, OD Green) | | Puffy Blanket (Black, Blue, Gray, OD Green) | |
---
| | | | | |
| --- | --- | --- | --- | --- |
| | 32oz Motivational Water Bottles | | 32oz Motivational Water Bottles | |
---
| | | | | |
| --- | --- | --- | --- | --- |
| | 64oz Motivational Water Bottles | | 128oz Motivational Water Bottles | |
---
| | | | | |
| --- | --- | --- | --- | --- |
| | Trekking Poles – Collapsible, Lightweight, Aluminum 7075 Hiking Pole | | Camping Pillow (1 Pack) | |
---
| | | | | |
| --- | --- | --- | --- | --- |
| | Gold Armour Multitool Plier Set, 15 in 1 Portable Pocket Multifunctional Multi Tool | | Gold Armour Multitool Axe Hammer Camping Tool | |
---
| | | | | |
| --- | --- | --- | --- | --- |
| | Gold Armour 17 Pieces Camping Cookware Mess Kit (Green) | | Gold Armour 17 Pieces Camping Cookware Mess Kit (Orange) | |
---
| | | | | |
| --- | --- | --- | --- | --- |
| | Gold Armour 17 Pieces Camping Cookware Mess Kit (Black) | | Gold Armour 17 Pieces Camping Cookware Mess Kit (Blue) | |
---
| | | | | |
| --- | --- | --- | --- | --- |
| | 8Pcs Camping Cookware Kitchen Utensil Organizer Travel Set | | Gold Armour Inflatable Camping Pillow (2 Pack) | |
---
| | | | | |
| --- | --- | --- | --- | --- |
| | Pillow (Black, Blue, Purple, Green) | | 1Pack Stainless Steel Stemless Wine Glass Tumbler with Lid | |
---
| | | | | |
| --- | --- | --- | --- | --- |
| | 30 oz Tumbler - Stainless Steel 6-Piece Tumbler Set (7 COLORS: BLACK, BLUE, PINK, SEAFOAM, SS, PURPLE) | | Narrow Mouth Vacuum Insulated 18/8 Stainless Steel Water Bottles | |
---
| | | | | |
| --- | --- | --- | --- | --- |
| | Wide Mouth Vacuum Insulated 18/8 Stainless Steel Water Bottles | | Moscow Mule Copper Mugs - Set of 4, 100% Pure and HANDCRAFTED | |
---
| | | | | |
| --- | --- | --- | --- | --- |
| | Moscow Mule Copper Mugs - Set of 4, 100% Pure and HANDCRAFTED | | Moscow Mule Copper Mugs - Set of 4, 100% Pure and HANDCRAFTED | |
---
| | | | | |
| --- | --- | --- | --- | --- |
| | XL Double Parachute Camping Hammock (2 Tree Straps 32 LOOPS/20 FT Total Included) | | SINGLE Parachute Camping Hammock (2 Tree Straps 10 LOOPS/20 FT Total Included) | |
---
| | | | | |
| --- | --- | --- | --- | --- |
| | Camping Hammock and Bug Net Set | | Camping Hammock with Bug Net Set | |
---
| | | | | |
| --- | --- | --- | --- | --- |
| | Camping Hammock and Bug Net Set | | Single and Double Hammocks (with Rope) | |
---
| | | | | |
| --- | --- | --- | --- | --- |
| | Hammock Bug Net | | Gold Armour Hammock Straps XL, Camping Hammock Tree Straps Set (2 Straps, 2 Carabiners, Carrying Bag) | |
---
| | | | | |
| --- | --- | --- | --- | --- |
| | Rain Fly TARP Hammock Waterproof Tent TARP 185" Centerline | | Rain Fly TARP Hammock Waterproof Tent TARP (HEX) | |
---
| | | | | |
| --- | --- | --- | --- | --- |
| | Tarp Pole (4Pack) | | Tarp Pole (2Pack) | |
---
| | | | | |
| --- | --- | --- | --- | --- |
| | Gold Armour Tent Footprint (Black) | | Gold Armour Tent Footprint (OD Green) | |
---
| | | | | |
| --- | --- | --- | --- | --- |
| | Gold Armour Yoga Straps, Multi-Loop Strap, 12 Loops Yoga Stretch Strap | | Premium Salt & Pepper Grinder Set of 2 (5.2 inches Tall) | |
---
| | | | | |
| --- | --- | --- | --- | --- |
| | Gold Armour Sleeping Bag (Mummy) | | Gold Armour Sleeping Bag | |
---
| | | | | |
| --- | --- | --- | --- | --- |
| | Gold Armour Camping Shovel, Folding Survival Military Shovel | | Gold Armour Camping Shovel (OD Green) | |
---
| | | | | |
| --- | --- | --- | --- | --- |
| | Multifunctional Camping Shovel Axe | | Gym Bag | |
---
| | | | | |
| --- | --- | --- | --- | --- |
| | 10pcs Camping Cookware Mess Kit, Lightweight Pot Pan Kettle with 2 Cups | | Gold Armour LED Lantern, 1000 Lumens and 25 Hours Usage Camping Light, 3 Light Modes (4 Pack) | |
---
| | | | | |
| --- | --- | --- | --- | --- |
| | 4 Pack LED Lanterns COB with Magnetic Base and 12 AA Batteries (Black) | | 4 Pack LED Lanterns COB with 12 AA Batteries (Black) | |
---
| | | | | |
| --- | --- | --- | --- | --- |
| | 4 Pack LED Lanterns COB with Magnetic Base and 12 AA Batteries (Black) | | 4 Pack LED Lanterns COB with 12 AA Batteries (Black) | |
---
| | | | | |
| --- | --- | --- | --- | --- |
| | 4Pack Headlamps | | 4 Pack LED Lanterns COB with 12 AA Batteries (Multicolor) | |
---
| | | | | |
| --- | --- | --- | --- | --- |
| | 4 Pack LED Lanterns COB with Magnetic Base and 12 AA Batteries (Gray) | | 4 Pack LED Lanterns COB with 12 AA Batteries (Gray) | |
---
| | | | | |
| --- | --- | --- | --- | --- |
| | 4 Pack LED Lanterns 30 LED with 12 AA Batteries (Multicolor) | | 4 Pack LED Lanterns 30 LED with Magnetic Base and 12 AA Batteries (Multicolor) | |
---
| | | | | |
| --- | --- | --- | --- | --- |
| | 4 Pack LED Lanterns 30 LED with 12 AA Batteries (Black) | | 2 Pack LED Lanterns COB with Magnetic Base and 6 AA Batteries (Black) | |
---
| | | | | |
| --- | --- | --- | --- | --- |
| | Bamboo Book Stand | | Bamboo Drawer Dividers 4-Pack (Natural, White, Gray) | |
---
| | | | | |
| --- | --- | --- | --- | --- |
| | Gold Armour Shoe Rack Bench, 3-Tier Premium Bamboo Shoe Shelf (Black) | | Gold Armour Shoe Rack Bench, 3-Tier Premium Bamboo Shoe Shelf (Natural) | |
---
| | | | | |
| --- | --- | --- | --- | --- |
| | In-Drawer Bamboo knife block (12 Holder) | | In-Drawer Bamboo knife block (16 Holder) | |
---
keywords: Gold Armour Official Website, Gold Armor, Golden Armour, Gold Armour